Work has resumed at Basin Louise. Track laying started a weeks ago and yesterday, we completed the carfloat and yard entrance.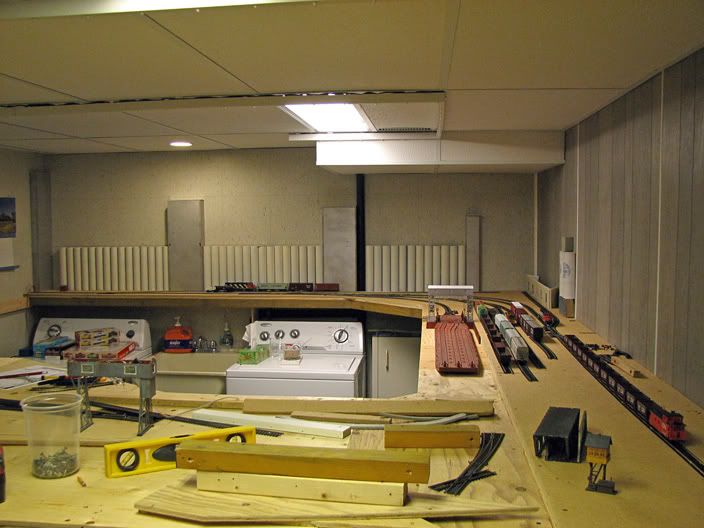 The new Basin Louise extension with the large grain elevator.
Back in the 1970's, Canadian Pacific had plan to use a ferry to move car from Quebec City to Baie-Comeau. They started to build the pier, but stopped before they finished this foolish endeavour. The carfloat on the layout is protofreelanced concept inspired by this. The carfloat will be christened "Leonard", which was the historical name of a carfloat that operated between Quebec City and Levis before Quebec Bridge was completed.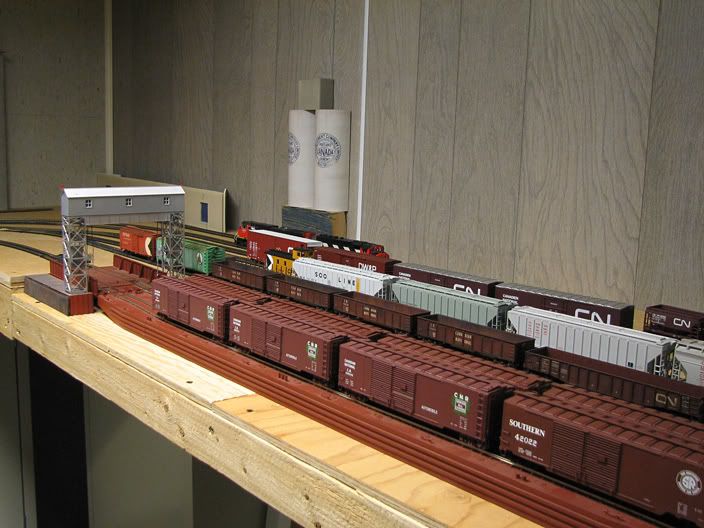 Car float with the yard behind.
Apron and pier.
Gradually, PECO turnouts are making their way on the layout. Atlas are good but since I can get my hand on PECO for the same price, one would be crazy to hesitate. Space is at premium and the yard ladder was made with curved Setrack turnouts. At first, I was a little bit scared, but this tricky and sharp radius section operate without a glitch. Inside radius is a little under 18", however, most 4-axles engines worked their way without problems. Most of the time, this part will be switched with a GE 44-ton, SW, Alco S or small GP.
The new curved yard ladder.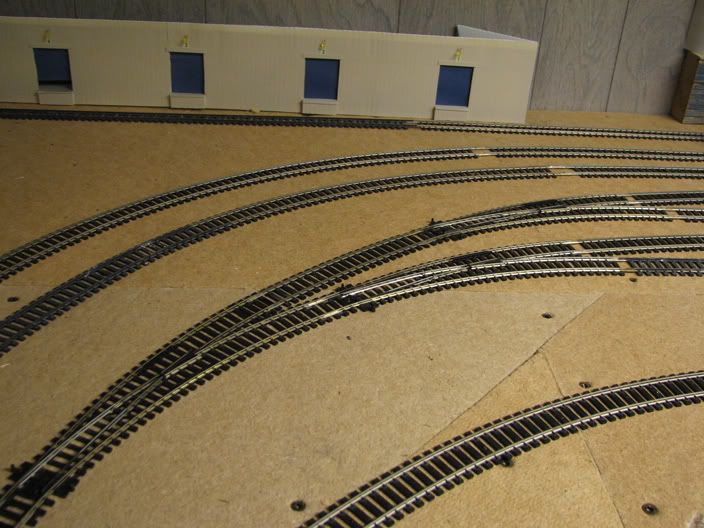 3 PECO curved turnouts make the yard ladder and save a lot of space.
The new yard now enjoy 4 tracks instead of 3. Place was available and a short operation session proven us it wasn't a luxury.
Carfloat and yard. Main line is at right with the GP40-2W.
News from Hedley Junction
Fournier & Papillon building is almost completed and Saul Assh Scrapyard is now housed in a Walthers 2-stall engine house. Maybe this industry will be replaced by something else. Who knows?
The first building is scratchbuilt in styrene according to an Insurance Map.
Canardière Road overpass was completed with slightly kitbashed Rix Products kits. The concrete girder with decorative panels was scratchbuilt from memory according to the prototype. Final painting and weathering not done yet. We will have to rebuild this part of the yard for better operation soon, so the finishing touch will be done after that.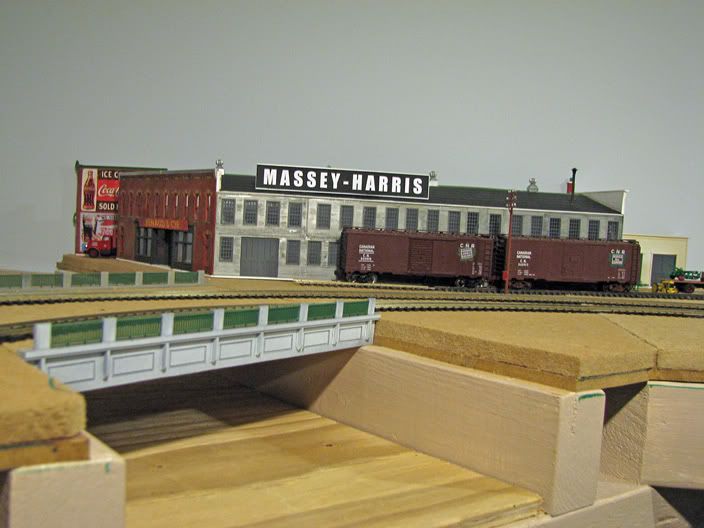 Canardière Road concrete overpass.
Next time we work on Hedley, we will get rid of all 18" radius curves and replace them with at least 22" and higher radius. This decision was made to get smoother operation, visual appealness and to run 6-axles diesel and larger steamer is wanted. We are also replacing, according to our budget and ressources, all #4 turnouts by #6 when possible.
By the way, the club members finally made the decision to move from DC to DCC. It took us 4 years to decide.