I've been talking a lot about this layout but never really presented a comprehensive understanding of the area. Quebec City never was an important rail hub but rather a secondary terminal. For this reason, I don't expect railfans across the nation and worldwide to know it. Nowadays, rail transportation is rather minimal here compared to what it used to be. But truth to be told, there's still a lot of action, mainly in handling of bulk commodities like grain, alumine, coal, jet fuel, fertilizer, salt and others. Quebec City is also home of Canam-Structal plant shipping many steel bridges and building structures by rail all over North America.
On the map, most important railway related features of the city are presented. Also, some well-known landmarks as Château Frontenac, Palace Station (terminal of VIA Rail Corridor) and Plains of Abraham where Canada's fate was decided in 1759. CNR tracks are orange, CPR tracks are red and abandoned tracks are blue.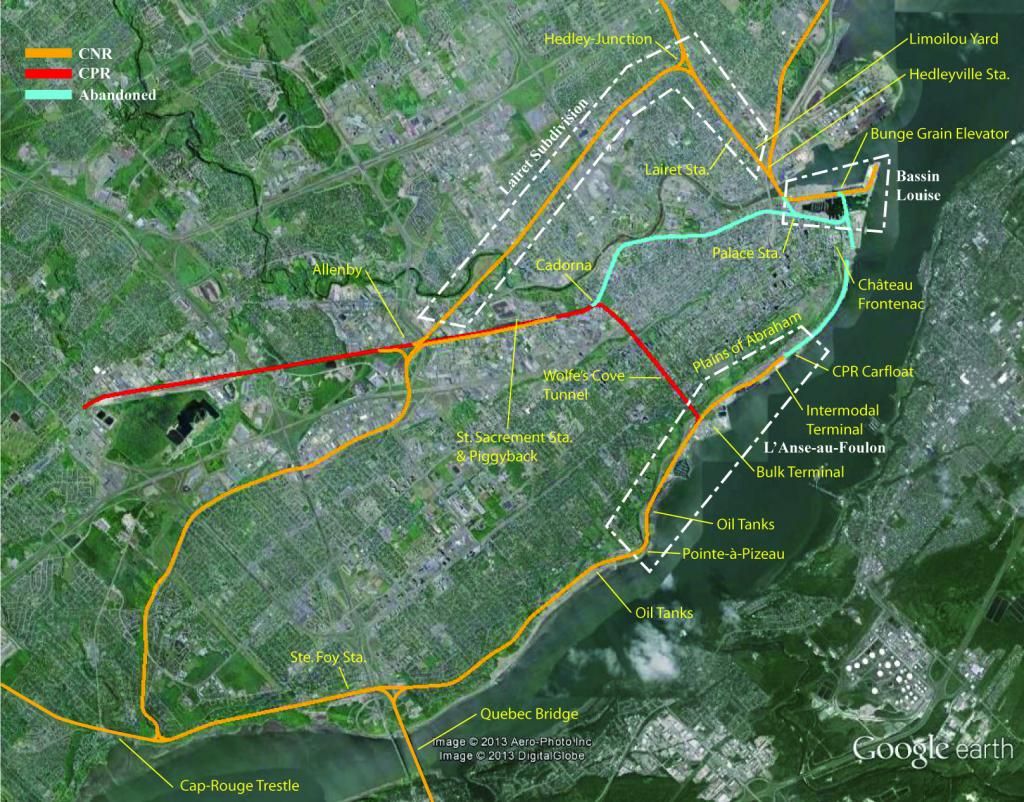 Three areas inspired our layout, namely "Lairet Subdivision" located in Limoilou Ward, "Bassin Louise" which is Quebec City old harbour and "L'Anse-au-Foulon" (Wolfe's Cove) which is a bulk terminal.
Our layout isn't an exact reproduction of these areas, but still faithful enough for someone to recognize clearly them in HO scale.