A peninsula is always a double edge knife. It helps separate scenes and bring more mainline run, however, wrapping it correctly with scenery isn't always as easy as it can seems. Weaving together two distinct scenes isn't a panacea.
As you know, I'm actually in the process of rethinking the layout track plan. Slimming it down a lot to improve operation, but mainly to make it a truly achievable layout. I must be honest, I'm not that much confident in my proposal. I'm stepping out of my confort zone by trying to stick to Murray Bay Subdivision between Québec City and Beaupré, a subdivision known for its extremely low track density.
In another hand, I grew up along that line and it's simplistic freight trains defined my vision of railroading. I know the place a lot and it was the subject of my Master Degree in architecture back in the mid-2000s.
That said, one side of the peninsula now represents Montmorency cliffs in a relatively realistic fashion. However, from that point to Beaupré, the railway cross about 15 miles of farming flatlands. Well, they are actually developping rapidly into one of the most ill-designed suburbs I've seen in age. In fact, I think most model railroaders put more thoughts behind their layouts than these city counselors! Sometimes, I think they should play simulation games or build a layout to gain factual knowledge of what they are doing!
Real life VS the layout (Google StreetView)
The big problem is the transition between the cliffs and flatlands is too much drastic on the layout. I first thought it would be a good idea to lower the hills and cover them with vegetation. But it sounded silly and stretched. Instead,
Instead of forcing scenes to merge together, I decided to simplify get rid of the flatlands. In real life, steep cliffs exists in Sainte-Anne-de-Beaupré. At that place, the track gently sweep at their base until it reach the Basilica. The place is called "Le Petit-Cap" (Little Cape) and is a distinctive feature of the area (Sainte-Anne was once called Sainte-Anne-du-Petit-Cap until the late 19th century).
Petit-Cap seen from the Basilica - Looking West (Google StreetView)
At mid-level, the old road and disparate small houses have their diminutive backyard oriented toward the roadbed. Using this as a scenic device helps to blend Montmorency cliffs and Sainte-Anne ones. In fact, they share a common geology which makes it natural and easy. Also, it gives the impression the railway line is nearing its final goal, reaching a human activity node that culminate by crossing the river and reaching the paper mill. This is prototycally correct.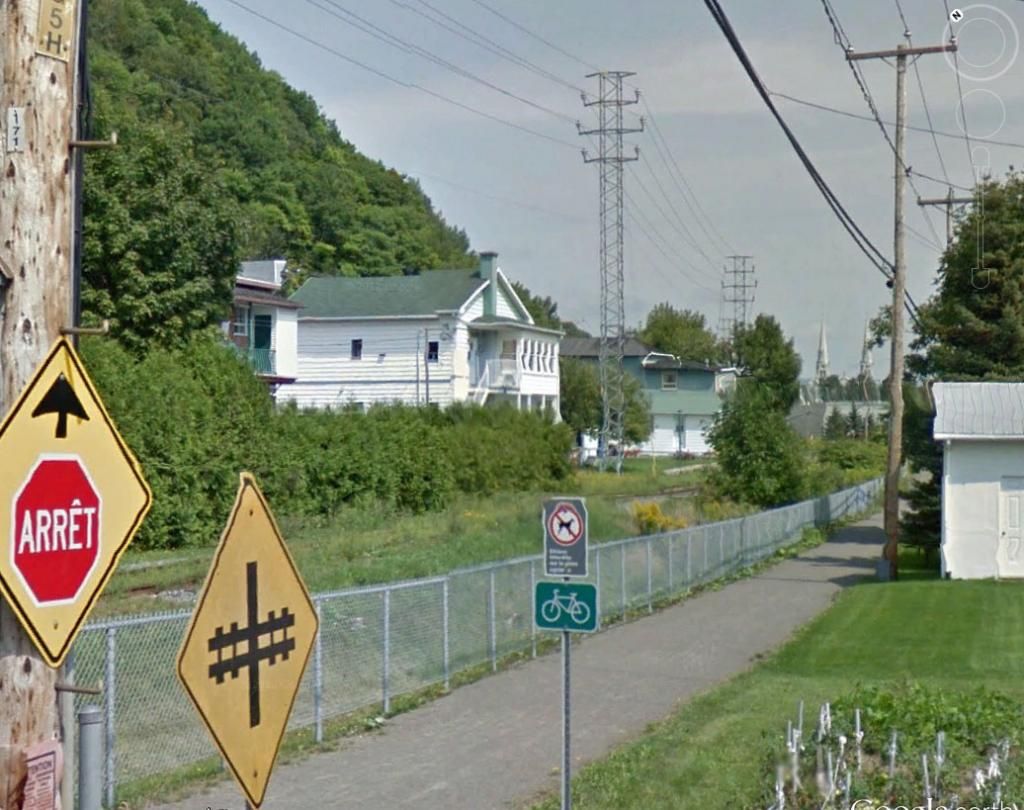 Railway and backyards at Petit-Cap - Basilica twin steeples in the background (Google StreetView)
Better, I took some measurements on the layout and Google Earth. You know what? I have exactly the same space between the cliff and roadbed than the prototype! Plus, having a bunch of houses gives a decent reason to have the passenger station standing there. The only modelling license I'm taking is merging Beaupré and Sainte-Anne-de-Beaupré! And it is historically accurate since Beaupré separated from Sainte-Anne in the late 1920s when they built the paper mill!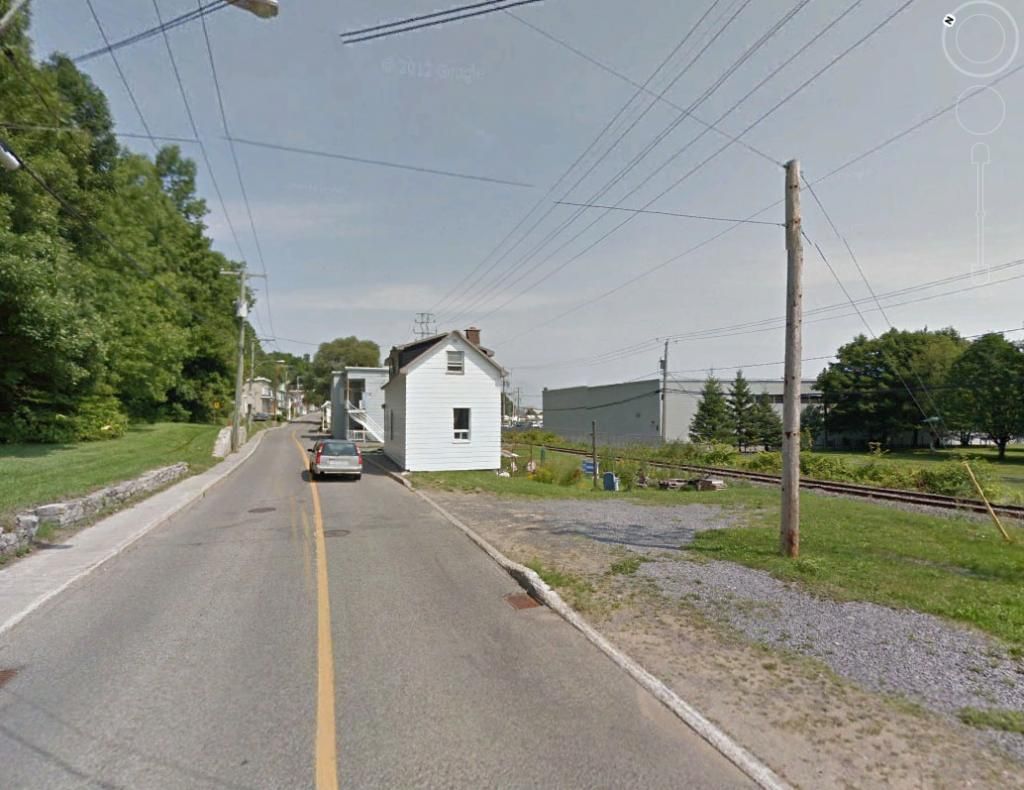 The old Avenue Royale below the cliff with small working-class cottages (Google StreetView)
Now's the time to try the idea with a real model to make sure the concept holds true. I've always been a fan of trains running near residential areas. Now is the time to see it all this work in real life.