Yesterday was a very productive work session. Louis-Marie and Jérôme completed the benchwork once for all. As always, many adjustments were needed but overall, everything is in place. Next step will be to add the fiberboard and fascia.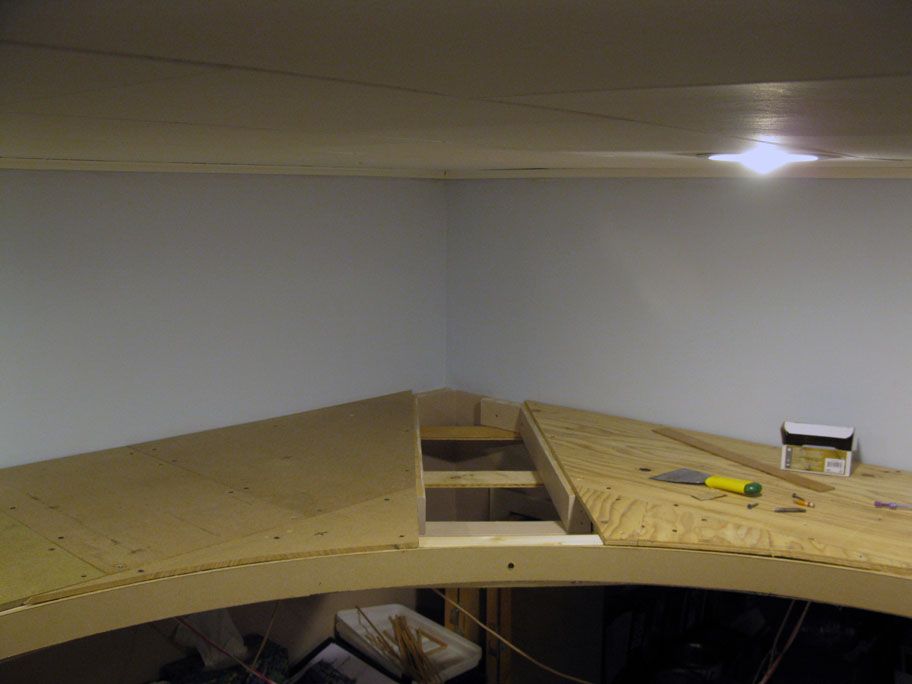 Future location for Rivière de la cabane aux Taupières at D'Estimauville.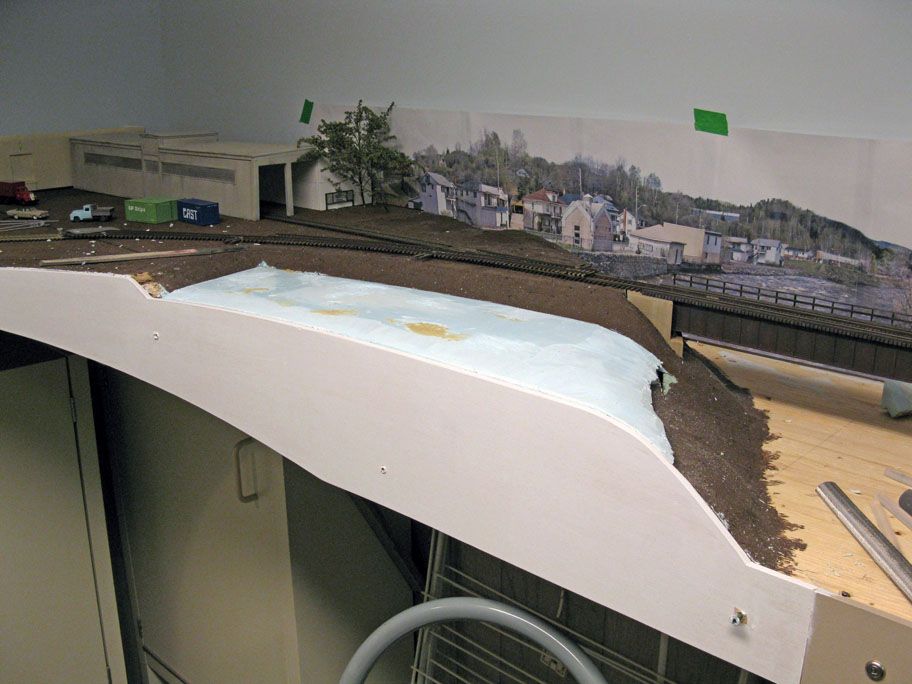 Raised employees parking lot.
When all the messy work was done, I took some time with Louis-Marie to mick up the scene in Clermont. We weren't satisfied with some details and track geometry that didn't catch the prototype essential operating scene.
I took the initiative of removing the returning loop in Clermont, well aware I could be force to nail it back in place. Whatever, it wasa good idea to see the scene from a new perspective.
It clearly appeared to us the new topography didn't work realistically with our first idea. And then, a new opportunity appeared to us: moving the runaround track on the other side of the river - in Clermont - and not on Donohue's side. Doing so would be more prototypical, but would also give us more opportunities to make a more realistic paper mill track arrangement.
The main problem with a yard in Clermont is that it won't hold more than a 10-cars long train (which is our standard). Worst, it is located on two consecutive sharp curves. But so is the prototype too. Clermont yard is S-shaped and snuggle itself along a cliff, just like our layout. We hardly have place to have the 5 tracks yard, but could manage to have a runaround and a stub ended track for car storage.
This way, operations will be more prototypical. An inbound CN train leaves cars at Clermont and take everything ready for shipment. The Donohue switcher have to switch the yard and the mill, just like the real thing. In fact, I like this idea because it separate the mill scenes better and clearly states the bridge isn't used by regular trains (CN trains never crossed that bridge to my knowledge).
But doing this would mean to modify the peninsula benchwork to accept larger radius curved turnouts. In fact, it isn't an issue at all since Louis-Marie had told me months ago he would eventually modify it to install a continuous fascia, which meant to enlarge it a little bit - enough to accept the new cuves.
Anyway, Louis-Marie asked me to draw a new version of the layout plan. So far, I'm quite satisfied with the paper mill trackage. It have more turnouts, but in fact, it looks less crowded. Better, the geometry is faithful to the real prototype and the gate and parking lot scene is easier to handle near the bridge. I must admit I had a very hard time trying to figure out how I would do that.
The only problem is Clermont. I feel like the first turnout on the peninsula could "contaminate" Montmorency's scenic continuity.
Anyway, we will have to discuss seriously this option with Jérôme and probably do some test. Having a sharp S-curve siding is very exciting if we want to run cars over 50ft long. But, as you know, we don't plan running passenger equipment on a regular basis.