CN 523 just crossed Malbaie River bridge to pick up a cut of loaded boxcars.
This is the 100th blog entry. In itselft, it doesn't really mean nothing. It doesn't coincide with some anniversary nor means we have reach a certain level of achievement. However, it is a good opportunity to look back and find out how things changed since the first installment. Better, it is a proof the project - sometimes crippled with bad planning or shortcomings - did continue and is still alive and interesting after four years.
So far, about 16 000 visitors came here and I'm surprised to see anonymous regulars still coming here. Not that I'm writing for fame - this merely a means to document my modeling perspective from an archivistic standpoint - but it is nice to see that it is not as trivial as we may find it from the pits of our basement. You really start to understand what you are doing when you try to explain it to others. This is probably the most positive side of keeping a blog.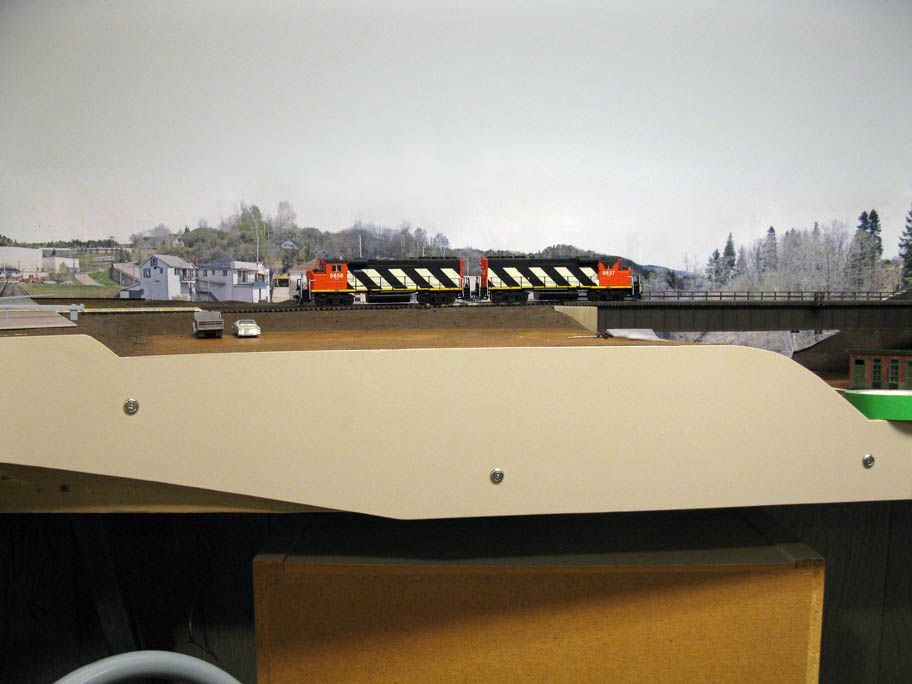 CN 523 waiting near Donohue's employees parking lot
It is fun to go back to the
first blog entry
and find out how much things changed. You can see a glimpse of the original 2007 layout: so crude! Era, industries, rolling stocks, everything changed... but some things are still the same. The first layout was called "Hedley-Junction" but never modelled physically this particular junction. The actual one has the same name and still doesn't model the junction. But think about it, each layout is in fact one side of the junction, depending which destination you want to reach! In fact, both layout are located on each side of the junction!
In fact, the actual layout is a better successor to the original concept written in the first entry. It is now a real tribute to Horace Jansen Beemer - a great railroader from the late 19th century - who built Murray Bay Sub when nobody was caring about this particular area.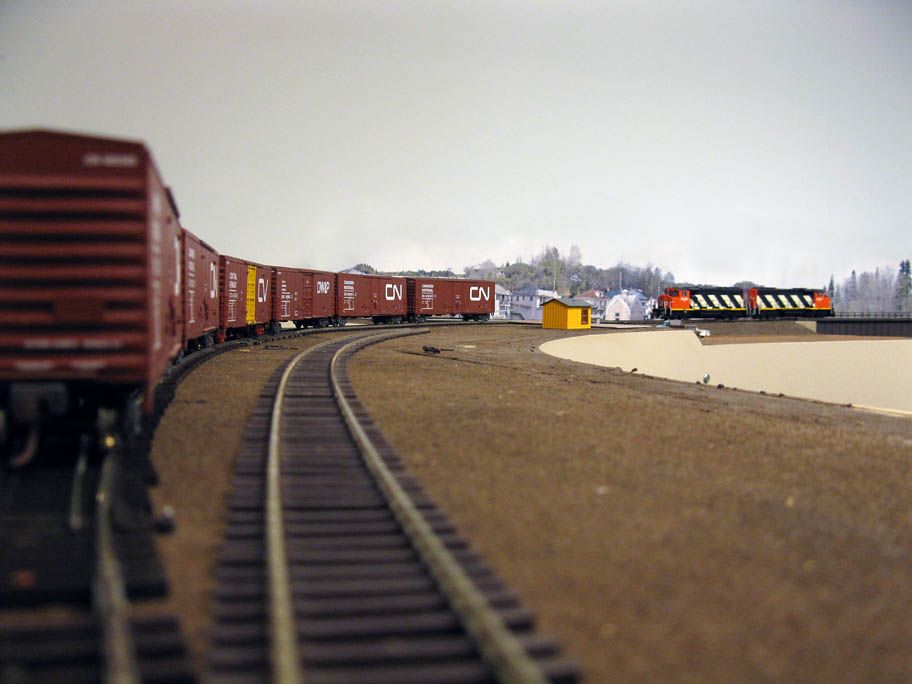 Donohue's yard looking south.
Yesterday was a great day. Jérôme was actually in vacation, visiting Washington D.C. numerous museums and, I'm sure, railfanning at his heart content. Nevertheless, we were minded to lay all track in Donohue before he comes back in a week. Restarting to lay track after ripping almost 95% of trackage feels like we overcome the mountain once for all.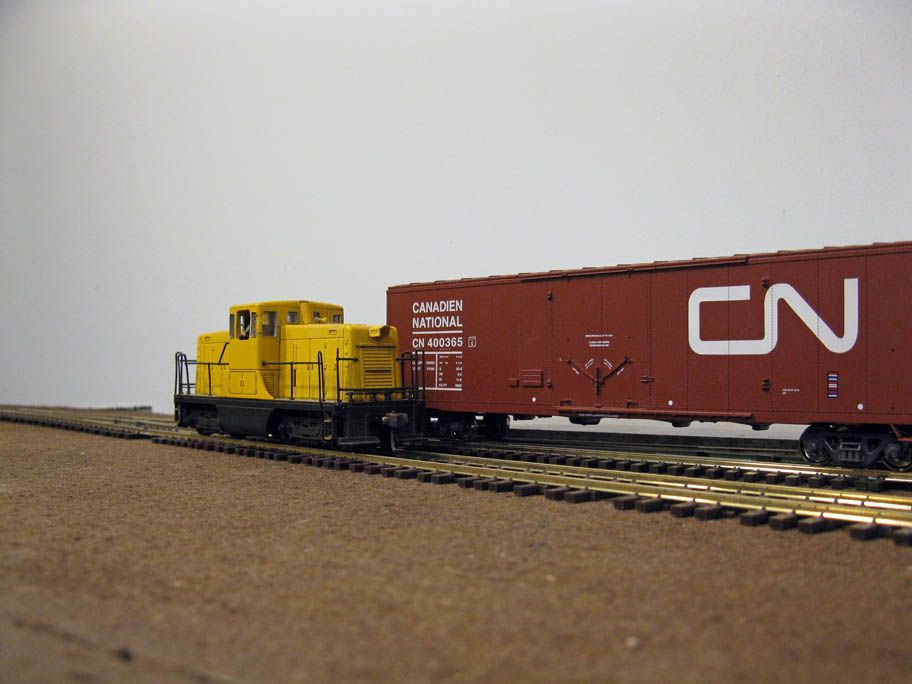 Donohue's switcher passing by a cut of boxcars
The first hour, we prepared the PECO flex track by removing about 1 tie out of 5. After, ties were randomly divided and spread accross the rails to get an industrial look. A small steps often overlooked but that can really change your perception of the scene.
Donohue's yard
Before installing any flex track, I pre-drilled hole in ties about each 8 inches. The track plan is relatively final, but we all know laying it in real need some adjusted. For this reason, I thought it would be foolish to glue the track at this point.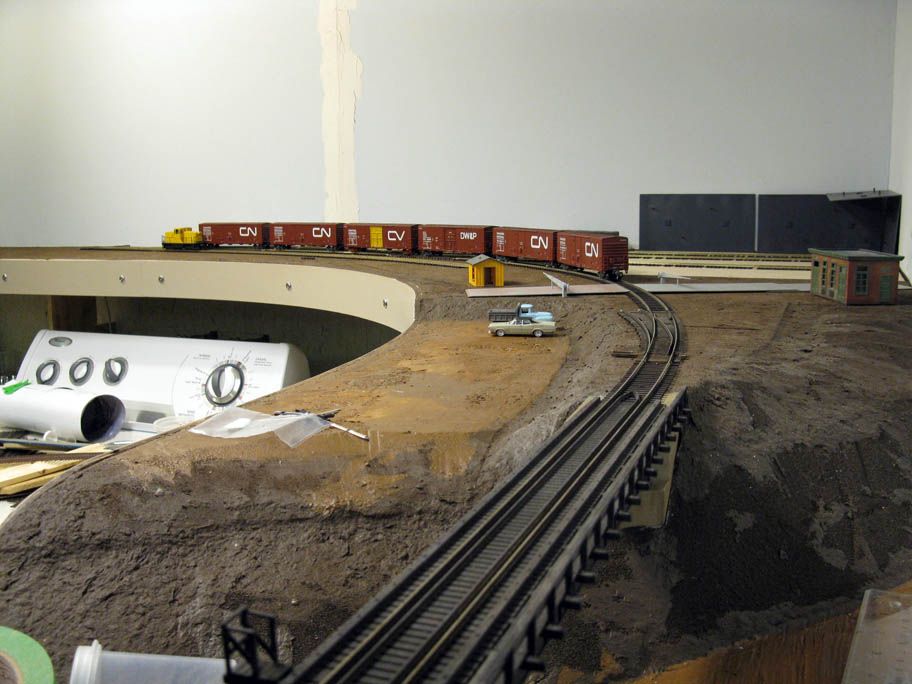 Looking at Donohue from the bridge.
We laid the track near the foreground, including the warehouse tracks, switcher garage track and one leg of the runaround. The bridge is now connected to Donohue. By the way, I removed the central bridge pile. After disccussion, we found out it should be directly glued on the plywood and not on shims. This will be particularly crucial when pouring the river.
Switcher's garage track and warehouse
We also had some trouble when laying the tracks in the warehouse. The benchwork is quite old there and not level. Cars wobbled over the rail - some could have thought it was Mike Cawdrey's New England in Winter layout (remember the rickety mill branchline).
CN 523 waiting for its next assignment at Donohue.
The issue was a flaw in our old construction technics. Plywood used was thin and used on the wrong side. It warped badly over time. Also, the fiberboard was built from scraps and bits there. Not a problem for a scenic area, but not the best foundation for a track. First, we added structural members to get rid of the plywood warping and then, fiberboard was replaced by a MDF plank to have a smooth and even surface to built the warehouse over. When time comes, the MDF will be painted to make sure it is sealed.
I was also surprised to find out I could finally use a bunch of Walthers modular roof kits I got years ago. They will be perfect to scratchbuilt/kitbash the Donohue's warehouse.
We also mockuped the mill scene with roads and buildings. Crossing gates, like the prototype, were added too. Looks OK, but I think the offices won't be modelled near the background. They break the scene, making it cluttered. The gate shed (Atlas shanty) will be moved over the tracks. The final building will look nothing like this one.